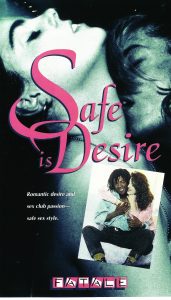 Good news! Fatale's Safe Is Desire is screening on opening night of the San Francisco PornFilmFest (#SFPFF) @SFPornFilmFest – and Nan will be there to give an intro on November 11!
Check out the interview with Nan by Caitlin Donohue in 48 Hills: Legendary Lesbian Adult Filmmaker Nan Kinney talks past and present of XXX.  
Huge thanks to Shine Louise Houston – @ShineLouise – and @JizLee of @PinkWhite for masterminding this necessary porn film festival in San Francisco.
Live and in person! Amazing. A year ago, who would've thunk it.
The festival runs November 11 – 28, 2021 and is also live-streaming through @PinkLabelTV.
Tickets here for live in person or live-streaming here.