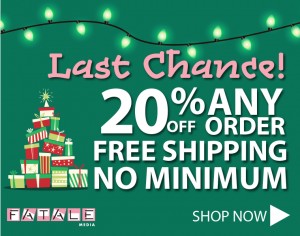 Last chance to order your sexy gifts for the season! Order by December 17th, 2018 for U.S. First Class Mail, or December 19, 2018 for Priority Mail and guaranteed Christmas delivery.
(Holiday shipping schedule is here.)
Save 20% on all items (no minimums!) and get free shipping in the U.S., half-price shipping outside the U.S.
The Fatale Gift Sets offer a unique gift for the lover in your life.
Bend Over Boyfriend, classic lesbian porn, gift certificates and much, much more!
Happy Holidays!
Love for the season, for the year ahead,
Christi and Nan