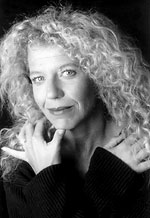 G-spot expert and author Deborah Sundahl, a.k.a. Fanny Fatale, answers your questions about female ejaculation and the G-spot.
Dear Fanny,
I read your book Female Ejaculation & the G-Spot (btw…great book!).
So this morning I tried ejaculating without an orgasm (I've never had an orgasm…but that's a different topic).
Here's where I'm confused. I'm not sure if I had FE or not. I think I did based on what you described the fluid to look like and smell like (clear & not an acidic smell) in the book but after I think I had a FE, I didn't have to urinate.
Do women always urinate after they had a FE?
Also, I didn't feel an overwhelming feeling of success or euphoria…I was confused with myself. Is this a normal reaction?
Any insights would be greatly appreciated.
Confused in Spokane, Washington
. . . . . . . . . . . . . . . . . . . . . . . . . .
Dear Confused,
Congratulations! You had your first ejaculation!
You don't always have to urinate after having an ejaculation.
Any kind of reaction is normal, because each woman has her own unique response. If your confusion bothered you, then ask: why were you confused with yourself?
You haven't had an orgasm yet; therefore, are you going to move farther into the book and try to have a G-spot orgasm? I suspect you experienced confusion because you were stimulating your G-spot, and this is an emotional orgasm. Sometimes the emotions are unpleasant, especially if women have "issues" with their sexuality, present or past. Confusion is a good way to cover up deeper emotions/feelings.
I'd say the most important task for you now is to attempt to have an orgasm. Make sure you read the chapter on the G-spot massage.
Please let me know your progress.
Deborah
P.S. Deborah Sundahl's all new, revised 2nd edition of Female Ejaculation and the G-Spot (Turner Publishing, 2014) is in stock and available for purchase now. All orders are ship within 24 hours, and free gift-wrapping is available.