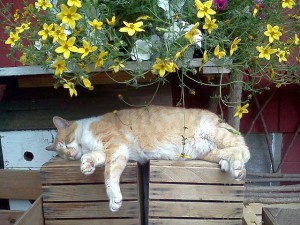 This note arrived in our inbox last week, reading: "As someone who knew nothing about lesbian pornography or that companies like yours existed I think it is very cool you do what you do."
Summers always bring us the sense of possibility. The days are long and lazy. It's a delicious feeling. Like when we were kids and had long, long days stretched out ahead of us, no school, nothing to do.
Were we innocent? Not entirely!
Some days we'd hang with packs of other kids and go roaming the streets, just looking for trouble.
Other days called for hibernating with a book.
Now and then there were swimming pools or a day trip to the beach to go swimming.
Our admirer went on: "I am a heterosexual male and knowing that there is an outlet and group of artists and business people making sure there are erotic and sexual media for everyone makes me glad to be American."
Mostly, on those long summer days, there was nothing to do, and that's what spurred the sense of possibility. We could do anything, or nothing.
We could be anything.
Later, it was knowing what might be possible that led first to On Our Backs and then to Fatale Video, now us, Fatale Media.
Our admirer concluded, "I think you and your organization are trailblazers that make being human in all aspects better. Sincerely impressed."
The note was signed simply, "JM."
To that we say, thank you, JM. Thank you for reminding us of why we're here, and the possibilities still in sight.
Till next time, we wish you happiness and fabulous sex!
Nan & Christi
nan@fatalemedia.com
christi@fatalemedia.com
P.S.  See all Fatale's lesbian titles, what LesbianLife.About.com calls "the best lesbian porn."
P.P.S. See pictures of Nan at the Feminist Porn Awards getting the "Trailblazer Award."