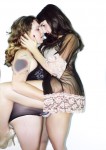 Last month, we asked if you liked to have sex in public. Wow! A surprising surge. Check out the results!
This month, in the wake a very successful PR campaign for International Fisting Day, we ask:
Do you like fisting?
Vote now! The poll is on Fatale's home page and 100% anonymous.
Till next time, we wish you fabulous sex.
Nan and Christi
www.fatalemedia.com
P.S. Check out Live Sex Show, Lesbian Curves or Hard Femme from Courtney Trouble for completely relevant scenes.
P.P.S. See what LesbianLife.About.com calls "the best lesbian porn."