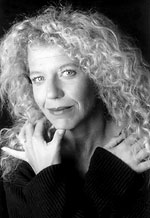 Does G-spot sex come naturally to you? To a lot of people, it doesn't, and for that G-spot diva Deborah Sundahl offers a wealth of resources.
Want to learn where the G-spot is, what it is and how to make your woman have the deepest, sexiest orgasms you ever imagined? Then Female Ejaculation: The Workshop is for you. An all-woman cast provides a safe space in which to talk, to touch, to explore.
Want to explore G-spot orgasms in a straight couples context? Then we recommend Female Ejaculation for Couples. Three straight couples talk openly and learn to have G-spot sex under the tutelage of expert Deborah Sundahl.
Deborah also offers in-person workshops. These intimate, loving sessions are just right if you want or need guidance from an experienced, gentle teacher.
Deborah guides you to learn where the G-spot is, what makes it so vital to fulfilling sex, and how to massage the G-spot to achieve maximum pleasure. Workshops are either for women only or for couples.
Her female ejaculation and the G-spot webinars are perfect if you want to participate but aren't in the neighborhood where Deborah is teaching.
Now through November, she's in the U.K., Europe and Ireland giving workshops and lectures. Countries include England, Ireland, Germany, Switzerland, Copenhagen, Poland, Belgium and France. She returns to the U.S. at the end of the year.
Check out Deborah's complete events calendar, including webinars.
See all Deborah's DVDs and female ejaculation book on Fatale's site.